Now published under the aegis of World Memon Organisation (WMO)
| | | |
| --- | --- | --- |
| January 2015 | December 2014 | |
| | | 12th Annual General Meeting of WMO at Johannesburg, South Africa |
| | | |
| | | |
| | | |
| --- | --- | --- |
| October 2014 | September 2014 | |
| Memon Women in the Frontline | | |
| | | |
| | | |
| | | |
| --- | --- | --- |
| July 2014 | June 2014 | |
| Memons in Indonesia | | |
| | | |
| | | |
| | | |
| --- | --- | --- |
| April 2014 | March 2014 | |
| Memons in North America | | |
| | | |
| | | |
| | | |
| --- | --- | --- |
| January 2014 | December 2013 | |
| Social Responsibility in Islam | | |
| | | |
| | | |
| | | |
| --- | --- | --- |
| October 2013 | September 2013 | |
| Umer A. Rehman | | |
| | | |
| | | |
| | | |
| --- | --- | --- |
| July 2013 | June 2013 | |
| Ahmed E. Jaffer | Poverty Alleviation through Education | MITI - Four Years of Excellence |
| | | |
| | | |
| | | |
| --- | --- | --- |
| April 2013 | March 2013 | |
| | | |
| | | |
| | | |
| | | |
| --- | --- | --- |
| January 2013 | December 2012 | |
| | | |
| | | |
| | | |
| | | |
| --- | --- | --- |
| | September 2012 | |
| | | |
| | | |
| | | |
| | | |
| --- | --- | --- |
| | June 2012 | |
| | | |
| | | |
| | | |
| | | |
| --- | --- | --- |
| | March 2012 | |
| | | |
| | | |
| | | |
| | | |
| --- | --- | --- |
| December 2011 / January 2012 | November 2011 | |
| | | |
| | | |
| | | |
| | | |
| --- | --- | --- |
| | August 2011 | |
| | | |
| | | |
| | | |
| | | |
| --- | --- | --- |
| | May 2011 | |
| | | |
| | | |
| | | |
| | | |
| --- | --- | --- |
| | February 2011 | |
| | | |
| | | |
| | | |
| | | |
| --- | --- | --- |
| | November 2010 | |
| | | |
| | | |
| | | |
| | | |
| --- | --- | --- |
| | August 2010 | |
| | | |
| | | |
| | | |
| | | |
| --- | --- | --- |
| | May 2010 | |
| | | |
| | | |
| | | |
MEMON ALAM - Memorandum of Understanding (MOU)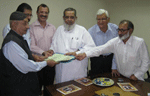 The Memon Alam Trust offered to hand over the publication of the Memon Alam, monthly magazine, to the World Memon Organisation (WMO). In this regard, the Board of Management of WMO decided that a Memorandum of Understanding (MOU) be executed between the World Memon Organisation (WMO) and the Memon Alam Trust.
As such, the MOU was executed by Mr. Shoaib Ismail Mangroria, Vice President, WMO, and Mr. Umer A. Rehman Khanani, Managing Trustee, Memon Alam Trust on 23rd November 2009 at WMO House, Karachi. The President of WMO, Haji Abdul Razzak Yaqoob (ARY), also graced the occasion.
According to the MOU, the WMO will publish the Memon Alam from April 2010 issue onwards.